Cryzeu's Mass Playthrough Journal
I figured I'd write a journal of my own. Why not eh? Also, it will make everyone Else's journal's look better as I'm not exactly a good writer...
Oh, and I'll steal WYNR's checker too if that's alright with you all.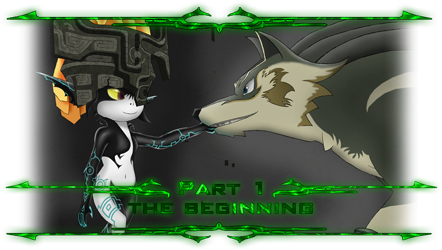 ----Cryzeu, Part 1----
Total Play Time: 2:28
Total Hearts: 4/4 (4/20)
Heart Pieces: 3/3 (3/45)
Total Items Collected: 6/6
Bottles: 2/2 (2/4)
Bomb Bags: N/A
Quiver Size: N/A
Wallet Size: 300
Howl Stones: 0/0 (0/7)
Golden Bugs: 0/0 (0/20)
Death count: 0
Finally I get around to playing Twilight Princess again… Even though it's my favorite game in the series, it is the only 3D Zelda game that I have only played once. .. Anyway, it didn't take long before I really started to enjoy playing it again, the opening itself ( when Wolf Link howls at the twilight and the logo comes in ) gave me Goosebumps… Such an epic scene… And the beginning of the game in Ordon is so calm and peaceful… After some time running around and throwing pumpkins everywhere I have enough rupees to buy the slingshot… Yay… One thing I don't like about the beginning though is those kids… WHooOOaA… Yeah… Whatever… Anyway, time to save Talo and apparently hurt Epona in the process resulting in Ilia being pissed. I then accidently talk to Bo and fail at stopping the damn goat… Oh well, it is finally time to enter the Twilight and see an awesome cutscene. The music that plays as the camera pans up on the curtain of Twilight is just epic… And yay, I finally meet Midna again… Time to get some gear, some tears and to go through the Forest Tempe which is actually my least favorite dungeon of the game… Even though I know what to do already I still find myself listening to every piece of advice Midna has got to offer… After fighting my way through the place, getting the heart pieces and killing the ridiculously easy boss, I guess I'm done… Right, next part.
----Cryzeu, Part 2----
Total Play Time: 5:35
Total Hearts: 7/7 (7/20)
Heart Pieces: 9/9 (12/45)
Total Items Collected: 4/4
Bottles: 0/0 (2/4)
Bomb Bags: Normal x1
Quiver Size: 30
Wallet Size: 300
Howling Stones: 1/1 (1/7)
Golden Bugs: 8/10 (8/20)
Death count: 0
This part is actually very enjoyable for me. After running around in Hyrule Field getting the piece of heart and the golden bugs it's off to the curtain of twi—HEEEEEEEEY—Aw crap… I really hate this guy… Anyway, after I get his completely pointless letter it's off to Kakariko to collect some more tears… Anyone else notice the awesome piano music that plays as Colin says that Link will save them? I just noticed that during this run… And yay, it's time for the first howling stone! I absolutely love the wolf songs in this game… Anyway, now that the Twilight's gone I won't be seeing Midna for some time =(
Ah well... After I get knocked off the path to death mountain it's time to reunite with Epona... For some reason I find the cutscene where she comes running towards you to be quite epic. The rendition of Epona's song that plays then is just awesome. Now it's time to go back to Ordon to get another hidden skill and the Iron boots and then it's off to rescue Colin. This is actually one of my favorite parts in the game because I love the horseback fighting and the cutscene that plays after you defeat Bulbin for the first time. After that's done, It's off to the Goron Mines. It's not my favorite dungeon but I still like it. After getting the heart pieces and killing the boss, all that there is left to do is to get all previously inaccessible pieces of heart with the bomb arrows and to get the golden bugs. For some reason I couldn't find all bugs though… The second Phasmid and Grasshopper hides from me… Oh well I'll get them later… And I guess that pretty much rounds this part up, I'm off to continue playing right now… But oh noes… I won't like this next part…